ALL WORKSHOPS FOR THE MEGA MASSIVE
WILL BE HELD AT DIAMOND DANCE STUDIO
601 MALL RING CIRCLE
HENDERSON, NV 89014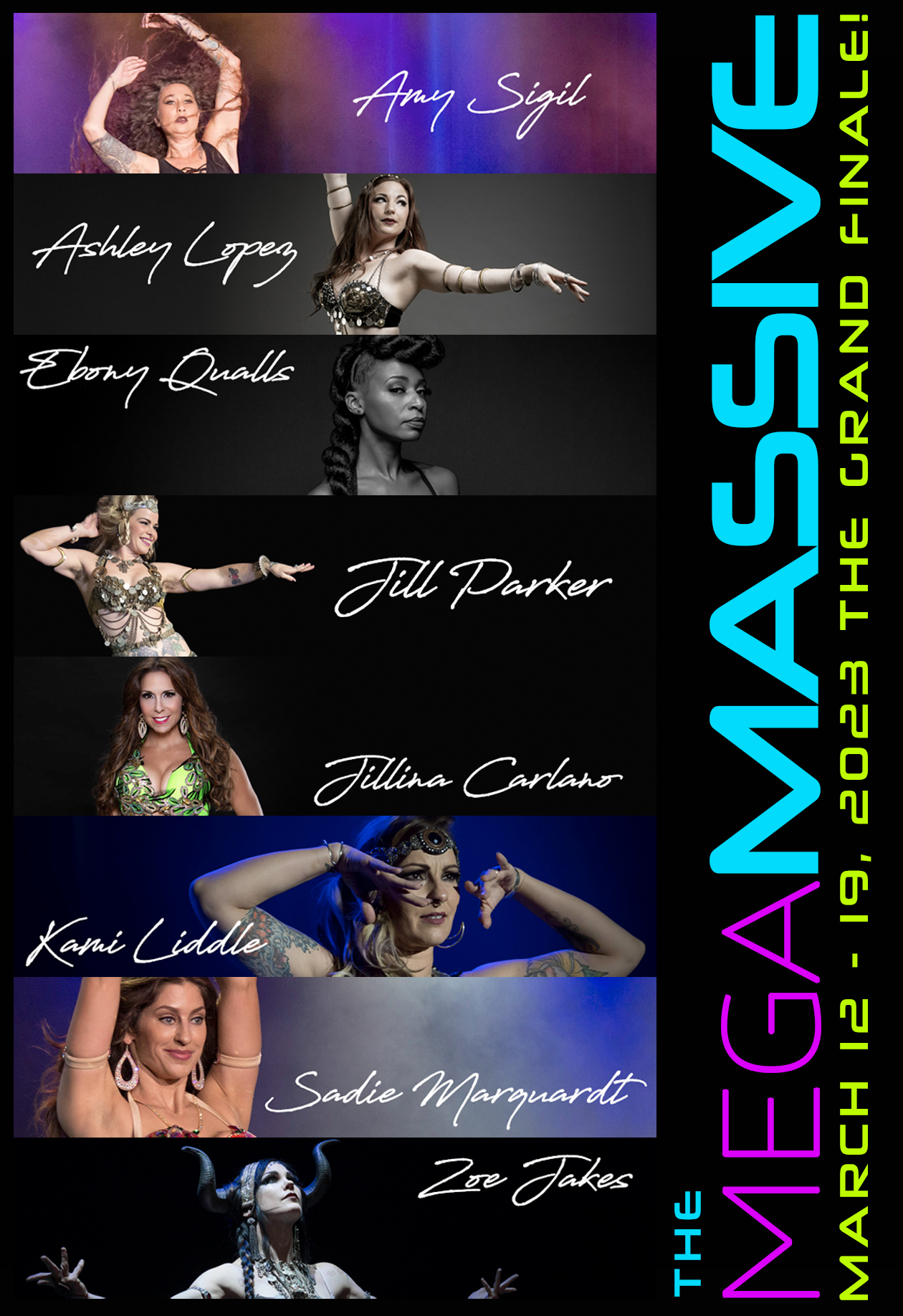 **Important – Please read descriptions carefully and review additional course info at bottom of page. If you are new we recommend contacting Tori to discuss which track would be best for you. There are no refunds available**

FUSION TRACK
Level: Advanced – Professional
Class Capacity: 35 Dancers Max
March 12 – 19
47 hours in class
MASSIVE™ Fusion Advanced to Professional level training course expands the dancer's concepts of theatricality, musicality, dance movement, costuming, choreography, performance quality, and developing a personal voice. Complex drills and technique-building will be used to create a deep and broad dance vocabulary, improve technique, expand proficiency, and stimulate creativity.
The Advanced/Professional Track is open to dancers with a thorough understanding of the foundations of bellydance, the ability to execute the foundations of bellydance and combine them, and a willingness to actively participate with the group. An understanding of spoken English is extremely helpful and is preferred, and you must be able to dance at least 8+ hours per day for 8 days.
Individual Class Topics & Descriptions will be available soon.
REGISTER NOW

View Teachers & Class Schedules

PROFESSIONAL TRACK



LEVEL: PROFESSIONAL ONLY
CLASS CAPACITY: 20 DANCERS MAX
MARCH 12 – 19 | 47 HOURS IN CLASS
Massive™ Professional level training course dives more deeply into the concepts of the Advanced/Pro Track, with additional emphasis on performance quality and developing a professional image. Complex drills will help refine dance vocabulary and perfect technique.
The Professional Track is open to dancers with a developed dance background, experienced performers, paid professional dancers or teachers, and highly advanced students who desire to become professionals. You must have a willingness to explore artistic interpretations, grow as a dancer, and push your boundaries as an artist. The students are expected to be critiqued openly in class, to do 'homework' assignments in addition to attending 100% of all classes and giving 100% of themselves to the group experience. An understanding of spoken English is required, and you must be able to dance at least 8+ hours per day for 8 days.
Detailed Class Descriptions will be available here July 2021
NOTE: The students from this track will be hand selected by our dance professors. Please register for the Advanced/Pro track, and email us at info@thetribalmassive.com with your desire to be selected for the Professional Track. If selected you will then be asked to pay the additional $500 Upgrade Fee on top of your Adv/Pro registration fee.
JILL PARKER MINI INTENSIVE
LEVEL: INTERMEDIATE TO PROFESSIONAL
CLASS CAPACITY: 20 DANCERS MAX
MARCH 16 – 19 | 12 HOURS IN CLASS
This exclusive 12 hour mini intensive with Jill Parker will help you hone your dance and creative skills. A major focus of the program is the technique and vocabulary that is the underpinning of Jill's elegant, grounded, and powerful style. A gratifying focus on drilling and beyond into many concepts important for the performer: developing musical awareness, building confidence, thinking clearly and creatively on the spot, strategies for improvisation, and taking your dancing to the next level. Enjoy a supportive and joyful experience of learning in an intimate group with opportunities for personalized attention and feedback. Refine your movements; learn fabulous transitions that look fluid on stage; dive into some of Jill's signature combos; explore improvisational exercises for groups, and nurture your mind and body with Jill's holistic approach to movement.

SADIE MARQUARDT – TECHNIQUE INTENSIVE
LEVEL: ADVANCED to PROFESSIONAL
CLASS CAPACITY: 24 DANCERS MAX
MARCH 12 – 19 | 15 HOURS IN CLASS
MASSIVE™ Oriental: Curated for Advanced to Professional dancers, or strong Intermediate dancers who want to challenge themselves and work hard. Sadie will focus on technique and stage presence, while strengthening musicality and performance quality. Dancers will broaden their dance vocabulary, hone technique, and cultivate proficiency with this master level instructor!
Detailed Class Descriptions will be available soon.
Make a one time payment for $359.00

JILLINA'S "BDE  meets MASSIVE" – PERFORMANCE INTENSIVE
LEVEL: ADVANCED – PROFESSIONAL
CLASS CAPACITY: 24 DANCERS MAX
MARCH 12 – 19 | 24 HOURS IN CLASS
Bellydance Evolution meets MASSIVE: Jillina has created a unique experience for Massive 2023, a 45 min "show within a show" to be featured on our stage! This track is developed for Advanced to Professional level dancers, or high intermediate dancers with the desire to train and work hard on advancement. This unique program is designed for dancers, directors and producers who are looking for a challenge and inspiration for a creativity.
In this intensive you will learn BDE & BDEx theatrical style choreographies, staging, costuming and valuable methods on how to put together a dance production.
This is a rare opportunity to get a taste of Bellydance Evolution style and as well as technique drills, staging concepts and production skills for creating  theatrical dance and beyond.
In addition to the in-person training you will receive online material to practice at your own pace as well as personalized feedback from Jillina and Luna to help you discover your strengths and areas that need improving. 
Detailed Class Descriptions will be available soon.
Make a one time payment for $599 today!
INDIVIDUAL CLASSES 



Please click on the Registration Page and scroll down to the bottom to find our individual "drop in" workshops.
Additional Information
LEVELS
Please read the detailed qualifications for each track. For new participants, we strongly suggest emailing Tori if you have any questions about which track to enroll in, to discuss where you might best be placed. Track schedules are up to view now, but detailed class descriptions are rarely added until well after the tracks are all sold out, as our teachers bring all new materials each year to the event.
REGISTRATION REFUNDS & TICKET EXCHANGE
There are no refunds – so please be certain you chose the right course for your level, you can attend all classes, and you have the time off work, etc.! If you are unable to attend, you may sell your spot and notify the event organizer with the new registrant's email and name. If needed, you may contact the event organizer to obtain a contact from our waiting list.
Please note: registrations are non-transferable 30 days prior to the event. We reserve the right to refuse registration or participation. We reserve the right to substitute or change teachers if needed.
THE MEGA MASSIVE CERTIFICATION
Week-long participants who attend all classes will receive a formal certification award for completion of the program! Each student MUST attend all of the classes to receive the certification of completion (it is ok to just take notes, but you must attend the class). You will be given your certificate signed by all the teachers you have studied with at the end of the workshop week! A wonderful additional value for mounting in your studios!
This certification applies to Fusion Adv/Pro, Fusion Professional, and Oriental Adv/Pro tracks.
WOULD YOU LIKE TO PERFORM?
After you register for your classes, please CONTACT US with your request for performance consideration – you must include a link to a performance video not more than 16 months old, a brief description of the style to be performed, as well as a bio to aid our jury in the selection process. We will confirm your placement after selection has taken place. Space is very limited, and we won't be able to accommodate all requests, so make sure to email us immediately after registration.
There are no performance spots for non-participants in the program.
All performers MUST use Royalty Free Music. We strongly suggest using Epidemic Sound for your selection: https://www.epidemicsound.com/referral/b5irtv/ all music must be verified as RFM and approved by the organizer 45 days prior to the start of the event.